We meet under the Treetop Adventure Nets course at NOC and tree canopy beside the Nantahala River. It's the perfect setting for reflection in the middle of so many outdoor activities.
CLICK HERE to watch services livestreaming on Facebook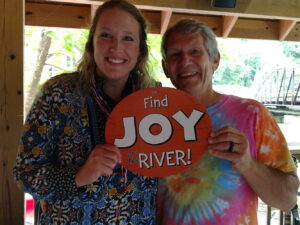 The River of Life provides an opportunity for anyone in Western North Carolina to enjoy friendship and explore and deepen our faith journey together. We share, grow in spirit, and listen to God by the river.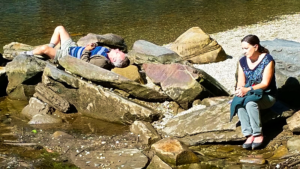 Everybody should be quiet near a little stream and listen.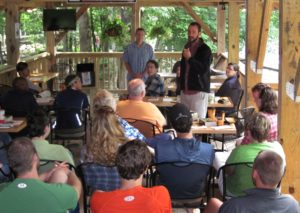 As we gather together, we'll share briefly about our ministry, our mission, and building community wells in Haiti followed by an inspiration song. We share God Sitings and Prayer Requests as we consider how God is moving in fresh ways of hope and grace in our lives.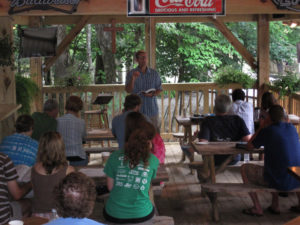 An encouraging and challenging message of hope is heard each week based on Bible passages and stories that are relevant to our lives today. Our hope is that each person experiences a message of love and grace that draws us to a deeper relationship with a loving God and each other.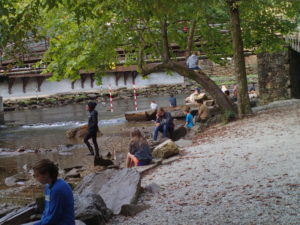 After a thoughtful message, each person is encouraged to "find a rock" beside the river for a brief time of individual reflection and prayer.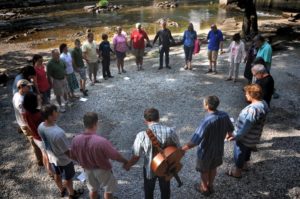 Sending Out
After our time of prayer and reflection, we come together for a short song and final blessing as we are sent out into the world to bring God's Kingdom on earth and be Christ's healing presence in the midst of those around us.
Paddle with Us!
On the last Sunday of each month, our group goes for a paddling trip down the Nantahala River. If you are not able to attend the riverside service but want to paddle with the group, contact Pastor Wayner on our Facebook page.