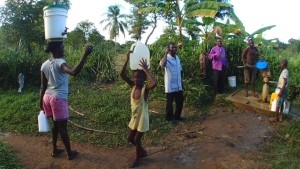 Sharing Love with
Clean Water
The River of Life ministry has been missionally focused from the beginning and has a unique opportunity of giving the predominant amount of love offering collected directly to providing water resources, giving life, to others around the world. It is our commitment to share the love of God with others through this gift of water that God has shared with us.
We have
Connections
We are able to help in these ways because of Dr. Eugene. He is a medical doctor that directly cares for the needs of several communities in northern Haiti. As he travels from town to town spending time with families, treating their illnesses, he has intimate knowledge of their needs, and the threats to their health. Dysentery and Cholera, along with other waterborne illnesses have caused great harm and many deaths in Haiti over the past few years.
They are in desperate need for clean water. Dr. Eugene has also built a new hospital which serves about 200,000 people. The River of Life has provided two wells and all of the plumbing needed to provide water for the hospital. There is a beautiful fountain in front of the hospital dedicated to the River of Life. Read more about the New Hope Hospital by clicking here.
Comprehensive
Approach
The River of Life has been using a comprehensive approach to give hope and love through a variety of efforts. So far we have been able to provide 144 community wells over the past few years. Dr. Eugene guides the selection of choosing wells. Watch the video from out trip in 2015 as we visited some potential sites with Dr. Eugene.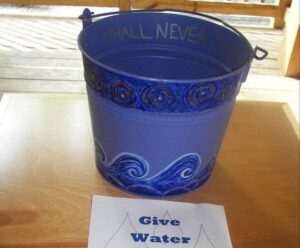 You Can Help!
We are often able to raise enough money for several wells each year through donations during our River of Life weekly worship services each Sunday morning. You can help from home by giving one time or set it up to give a little weekly or monthly through our giving app Tithe.ly.

PLEASE NOTE: the link will take you to the Bryson City UMC giving page. On the right side in the "Give to:" box, click the drop-down menu and select "River of Life: Wells in Haiti."
Rest assured that your money will go towards providing clean water, hope and life to those most in need!
Our Biggest
Fundraiser
You can contribute gently used outdoor gear that we are able to sell at NOC's Guest Appreciation Festival. Being able to repurpose used gear has resulted in dozens of wells for Haiti. Sometimes we are able to sell gear during the summer so if you need something, ask Pastor Wayner on Sunday morning or send him a note on our Facebook page to ask about specific equipment.
Rest assured that your money will go towards providing clean water, hope and life to those most in need!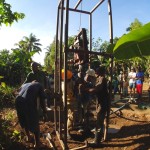 Digging a Well
Have you ever wondered about what digging a well in Haiti requires? We were blessed to film the entire process of putting in a community well during our trip to Haiti. Click here to watch a video of the entire process. If you are interested in the details of the actual drilling process click here to watch the video.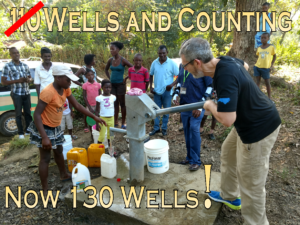 Even More Wells!
Beginning the 2023 season, we are thrilled to have provided over 144 communities with clean water! We remember the years when being able to sponsor even just one community well seemed like a lofty dream. Now, through the help of so many supporters who have given a little or sponsored entire wells, these holy dreams have become reality. If you would like to see your name, church, or even company on a well, let us know!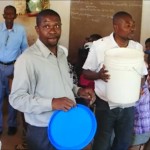 Serving Daily Needs
In addition we have sent water buckets to Haiti that have built in filtration systems. For only $5 per bucket, and proper training by Dr. Eugene on how to purify water and keep it clean, many lives have been saved. Click here to watch a video about the impact of some of the buckets we have sent to Haiti.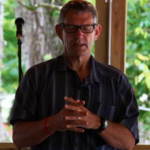 Pray for Haiti
with Us!
God of living waters, thank you for the opportunity to serve.
Remind us that all the children of Haiti are our children too.
May the little we offer, give them hope in the name of Jesus,
who is the living water of life. Amen.